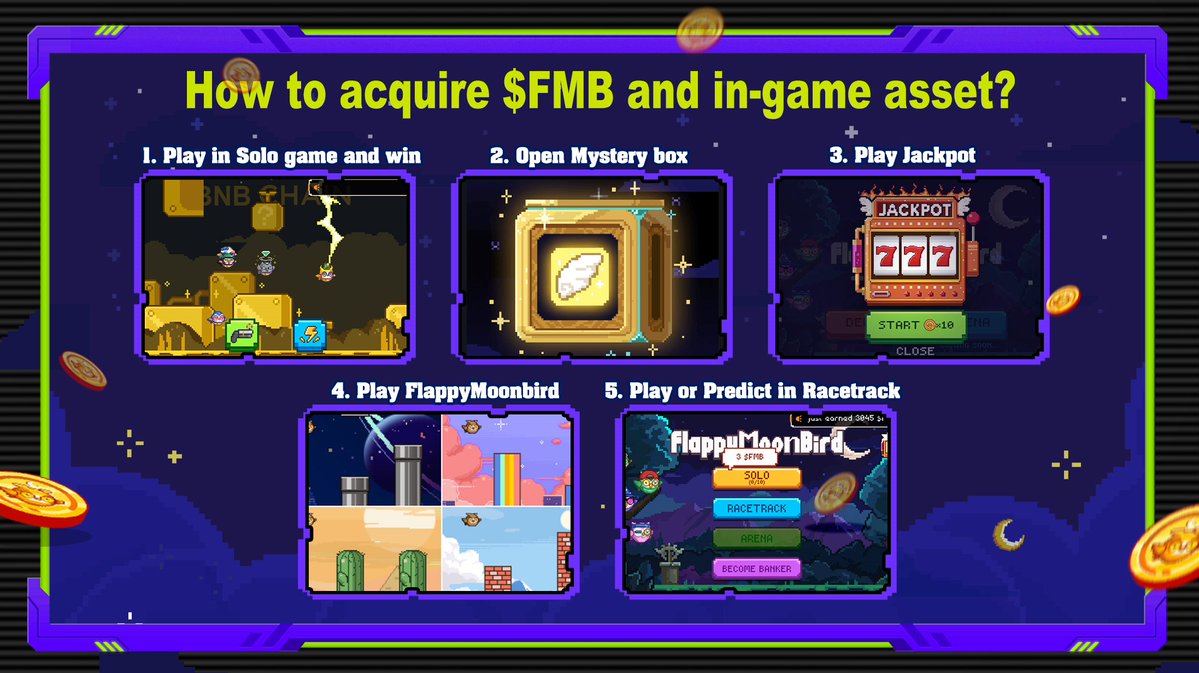 Since 2021, the chain gaming industry has witnessed remarkable growth, driving the market into a booming trend. This surge has impressed players and developers with PlayforFun's potential, while also leading to the removal of several chain games for various reasons. To revive market vitality, innovative mechanisms are now essential. FlappyMoonbird, a leisure chain game platform, is at the forefront of the GameFi revolution, introducing multiple advancements.
FlappyMoonbird, a blockchain game developed by Helixt Table and authorized by the community, has recently achieved significant progress. With $8 million in investment and successful listing of its native token $FMB on Bybit, the platform emphasizes its commitment to diverse leisure experiences across multiple chains. The game's user-friendly interface and straightforward gameplay make it popular among a wide audience. Players can enjoy captivating visuals showcasing different Moonbird illustrations.
Consequently, many individuals are intrigued and eager to join the FlappyMoonbird community, with a burning question on their minds: Can they truly generate income?
In the following sections, we will explore three distinct time periods that shed light on how one can become part of the FlappyMoonbird family, engage in web3 activities, and maximize their earning potential.
The Initial Phase: Play Games and Earn Coveted White Orders
In November 2022, FlappyMoonbird unveiled its inaugural mini-game, aptly named "FlappyMoonbird." This casual H5 game revolves around the unique Moonbird NFTs and is designed to provide a PlayforFun experience. Players engage by controlling the bird's movement using either a mouse or touch screen, maneuvering it through various obstacles. The more successful passes achieved, the greater the rewards earned by the player.
For instance, upon successfully completing levels 20, 35, and 66 in FlappyMoonbird, players are rewarded with rainbow eggs, silver eggs, and golden eggs respectively. Opening these eggs can yield fragments, game tokens ($FMB), or even mystery boxes as rewards.
Obtaining 250 fragments enables you to acquire a coveted white list, granting you exclusive access to cast Genesis Bird NFTs. Since March of this year, the game has seen an impressive surge in its user base, surpassing 100,000+ players.
Level Up: Acquire NFTs, Flappy Nests, and Stake for $FMB Rewards
FlappyMoonbird debuted on Ethereum blockchain in December 2022 at a price of 0.1 ETH. Bird's Nest owners could stake their nests to earn daily $FMB income through a randomized distribution system. However, as of June 2023, staking Bird's Nests for $FMB rewards has been discontinued. Despite this, some individuals have accumulated over 100,000 $FMB in earnings.
In February 2023, Racingbird will launch, a highly anticipated multiplayer competition where players invest $FMB for PK matches and exclusive rewards. It attracts bird enthusiasts worldwide, who form groups for exhilarating multi-bird match-ups that celebrate valor. Unexpected incidents add unpredictability, while the ultimate winner receives generous rewards like $FMB, treasure chest NFTs, and regular bird NFTs through airdrops. Players can choose birds, use props to obstruct opponents, and enjoy diverse gameplay in three versions: entertainment edition, on-chain edition, and strategy + probability random edition.
On May 9th, Genesis Bird NFTs were sold out within 18 hours at a price of 0.08 ETH on Opensea. Each NFT includes 3,000 $FMB tokens, with 1,000 $FMB unlocked upon purchase. To receive the remaining 2,000 $FMB, users can stake their Genesis Birds for 45 days, after which the $FMB will be deposited into their Ethereum wallets. Creation Bird NFTs act as bonuses in upcoming games and contribute to the development of the Bird Universe.
On August 30, 2023,the official FlappyMoonbird website has introduced a pledge query feature, allowing users to easily verify whether a particular Genesis Bird NFT has been staked. By accessing the query window, users can conveniently determine the status of their specified Genesis Bird NFT and ascertain whether it has been successfully staked.
Advancing to the Next Level: Exploring Tier 2, Engaging in Games, and Accomplishing Missions
It is not too late to join the FlappyMoonbird community. Despite its current state, the community remains active. By following their official Twitter account, you can stay updated with the latest news and developments. Additionally, they continue to distribute free $FMB tokens on Twitter. By engaging in simple interactions, you have the chance to receive rewards ranging from 200 to 1000 $FMB tokens.
The Discord community also hosts occasional low-threshold and straightforward games for its users, offering opportunities to win $FMB rewards such as:
Last Bird: The administrator will announce the end of the game, and the user who utters the word "bird" last will be rewarded.
Battle Royale: React by tapping the designated emoji and use the "jump" command to attack other participants. The victor of each round will be awarded a prize of 200 $FMB tokens.
Draw Something: Multiple users participate in this game where they take turns drawing while others attempt to guess the subject based on provided prompts. At the end of each round, rewards are given to the top-ranked participants who successfully guessed the drawings.
From July 31st to August 4th, the FlappyMoonbird community made a groundbreaking move by hosting live broadcasts on Twitch during the Korean SWF2023 offline exhibition. They also provided an online live broadcast experience. Users who left messages with their addresses had a chance to receive random rewards during the event. Moving forward, even those who haven't registered for the game will have a 24-hour window to register before rewards are distributed again. This thoughtful approach showcases the community's dedication to prioritizing the sentiments and interests of its users.
Simultaneously, Genesis Bird NFTs are available for purchase on various secondary markets, including Element, Blur, and Opensea. Players still have the opportunity to acquire Genesis Bird NFTs that have not been staked by checking the official website for availability.
The official team is developing a new card game to provide users with more entertainment options. Alongside this, players can enjoy existing mini-games like FlappyMoonbird, Racingbird, and mini-game slot machines. Participating in these games offers opportunities to acquire random props, blind boxes, and $FMB tokens. These props can be used to enhance and develop bird attributes, increasing the chances of winning in various gameplay scenarios.
Joining FlappyMoonbird at any time allows players to dive into casual blockchain gaming for pure enjoyment by investing time and effort. The community welcomes players of all levels and fosters collective fun. Furthermore, the team has revealed ongoing discussions with prominent exchanges for potential collaborations, hinting at exciting future developments. Let's eagerly await and see what the future holds!
Disclaimer: This article is reproduced from other media. The purpose of reprinting is to convey more information. It does not mean that this website agrees with its views and is responsible for its authenticity, and does not bear any legal responsibility. All resources on this site are collected on the Internet. The purpose of sharing is for everyone's learning and reference only. If there is copyright or intellectual property infringement, please leave us a message.